Intersecting Black Histories, Art Practice, and Information History
By Courtney Richardson
My scholarship involves imagining new ways of representing Black American experiences with the intent to encourage reviews (and new views) of known and less known stories from my cultural heritage. I work towards contributing additional perspectives on how knowledge can be visually transmitted between maker and public and am crafting an interdisciplinary practice that combines theories of knowledge transmission with art. I imagine part of this scholarship to engage with my community through immersive or experiential spaces. I want them to feel inspired/invited to leave their impressions on these spaces, ranging from submitted questions/comments to actual modifications of the space and artwork.
For example, I was able to share the beginning phase of my textile work with classmates (who were non-info-sci and non-art majors) before the pandemic.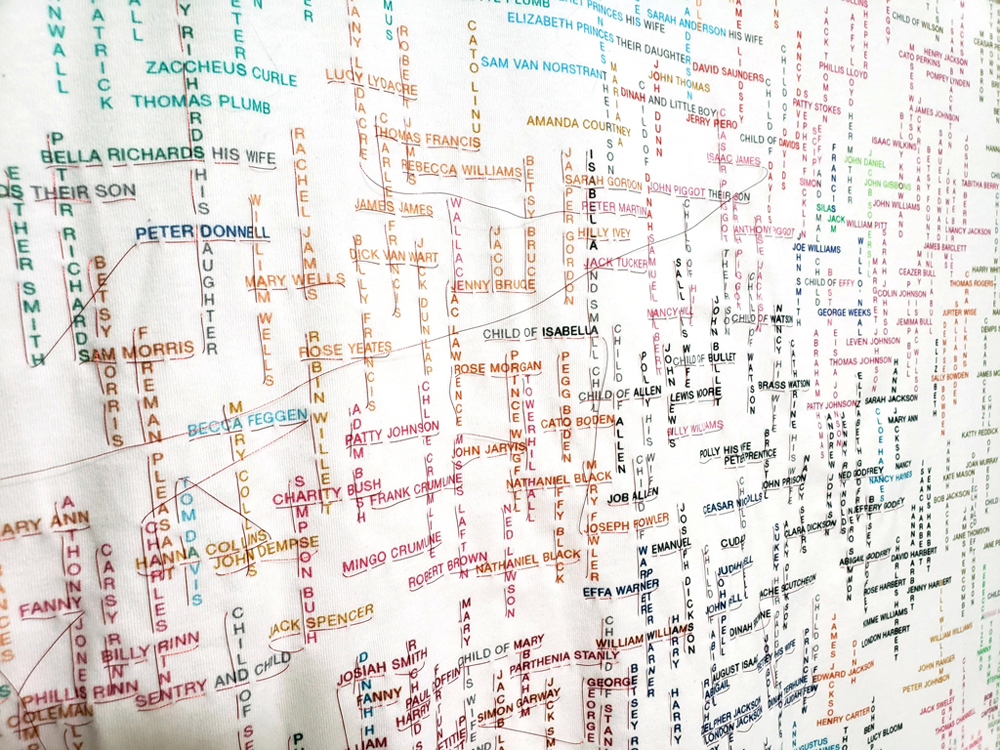 I presented a visual study that visualized a 2016 historically-based dataset re-presenting 1,000 Black free(d) and runaway individuals (historically labeled the Black Loyalists) who opted to be transported from New York (America) to Nova Scotia (Canada) after the American Revolution in hopes to flee anti-black racism. With the intention to amplify the humanity of those documented, I focused on visualizing individual names—as this was the most unique identifier remaining in the dataset version of a 1783 manuscript entitled, Book of Negroes (B.O.N).[1] I intended to study and present the disruptive, transitory, and indeterminate experiences of migration that was not wholly forced but also not entirely free-willed. Broader insights and questions I hoped to raise involved matters of re/mis-identification, re/dis-orientation and mobility of those who were transported within oppressive spaces.
Most recently, I have extended this work to a broader study of information practices within transatlantic slave history. Focusing on description practices, I identified close similarities between how runaway and free(d) people were physically described in B.O.N. to how enslaved people were described within historical documents utilized for slave industry. In these documents physical descriptions were standardized to measure, value, and commoditize humans based on perceived labor output. Although slavery was still legalized during the time B.O.N. was created, this document was not a slave accounting record. Why and how then were people still inspected and described as human property within this document? I examine these questions from an Information History perspective by reviewing information practices, which normalized and accelerated the use of textual description that objectified groups of people for profit. Returning to the presentation of my artwork to my classmates, I was able to share insights about history, data, and knowledge production in a form that differed from charts and graphs more typically identified with data visualization. This instead provided data they could also touch and question from various perspectives. I am not positive that I will be able to replicate such as a close-shared reading due to the pandemic. So creating a space for connectivity and close reading between physical material and the public is a challenge I plan to work through (or grapple with) as a PAGE fellow.
Featured Image: Courtney Richardson, Name Travel, incomplete (working title), process image. 2019–Present. Digitally printed on cotton, embroidered with red metallic thread. About 40in. square.
---
[1] Consisting of 3,000 entries, two original versions of the handwritten manuscript exist. British and American officers recorded them in separate books at the same time during registration. This artwork references the British version, which resides in the National Archives of the United Kingdom. You can view a fully digitized version of the manuscript along with more contextual information on Nova Scotia's governmental website: https://archives.novascotia.ca/africanns/. The 2016 dataset I reference is an open source dataset available through the same website (https://data.novascotia.ca/Arts-Culture-and-History/-Book-of-Negroes-1783/xxcy-v3fh).
---