Collective of Publicly Engaged Designers
The Collective of Publicly Engaged Designers (CoPED) is a platform for designers/planners to share resources and best practices around publicly engaged design.
CoPED, an initiative of Imagining America (IA) aims to elevate publicly engaged design work by giving practitioners access to resources through a strong and growing network of publicly engaged designers and planners and providing a forum for discussing and deliberating on the theory and practice of community engaged design and planning. The collective also provides opportunities for showcasing exemplary community engaged design and planning practice, creative activities and scholarship. Since 2018, we have begun to create a toolset for designers that includes:
A map of publicly engaged designers and resources throughout the United States. Have a contribution to this map? Please email: connect@imaginingamerica.org
A rubric for self and peer-evaluating publicly engaged design. Have a project you'd like to submit? Please email: connect@imaginingamerica.org
Each year, we plan to build on this set of resources. Have an idea you'd like to consider for future resources? Please email: connect@imaginingamerica.org
Who we are
Current Team
Past Team
Benefits
• Participation in a strong and growing national network of publicly engaged designers, planners, and scholars.
• Access to resources such as an online discussion space, a designers' community engagement toolkit, case study materials, and various events throughout the year.
• Opportunities to collaborate, to get involved, and to showcase high-quality scholarship and practice.
Why
• As practicing designers/planners/activists, we often need methods to showcase our work and get recognition, such as via group exhibitions and citations in publications. These opportunities can also help educate peers who are not involved in community engaged design.
• IA/CoPED is a welcoming place for designers/planners to share their experiences about publicly focused design/planning in academia.
• There is a scarcity of places for community-engaged designers and planners to gather, deliberate upon their practice/scholarship and provide support to one another, and IA fills this need.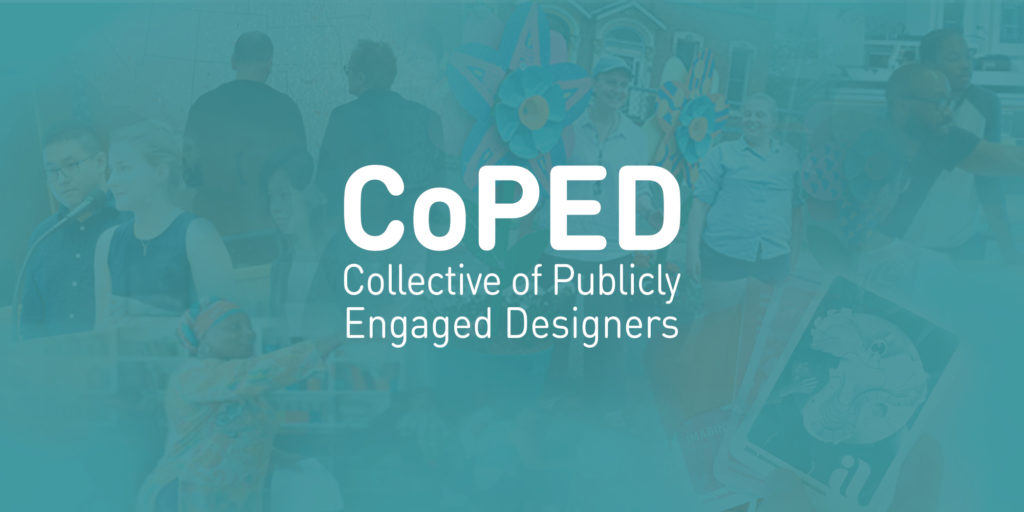 CoPED 2021 Summer/Fall Survey
CoPED invites individuals to take a quick survey that asks for reflections based on the past (pandemic) year. From all of us on the team, we would like to thank you in advance for taking our survey!
-Mallika, Brett, & Genevieve
CoPED 2020 #ENGAGEDINPLACE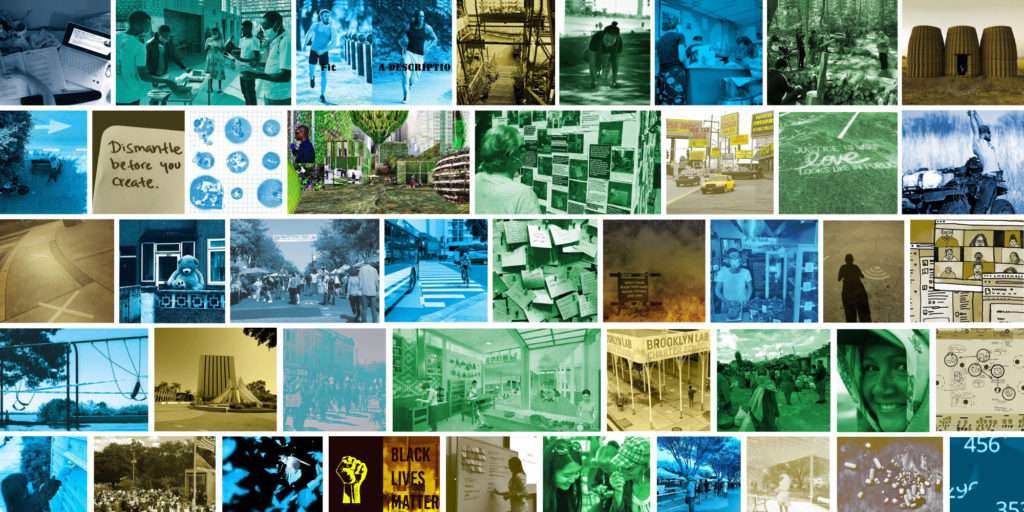 In the fall of 2020, CoPED invited respected colleagues, both local and global, to reflect on the twin pandemic during which racial and social inequities were laid bare. Participants responded to questions based on three main themes (Public, Engagement, Design), to which they paired personal images that embodied the same sentiments. The submissions look at the dual crisis through the lens of publicly engaged design, raising questions and posing creative solutions to this critical moment.
Thank you to all that participated in the #engagedinplace Instagram series for offering insightful and thought provoking contributions.
Rachel Berger, GAC, Craig Wilkins, Tatjana Schneider, Tom Maiorana, Gabrielle Bendiner-Viani & Buscada Studio, Anita Bakshi, Virginia San Fratello & Ronald Rael, MODU, Adriana Arriaga, The Open Workshop, Johanna Hoffman, Karen Lewis, Elizabeth Marley, Kevin Lair, UCSC-Open Lab, C+ Arquitectas, Rula Awwad-Rafferty, Beth Ferguson, Adam Flint, Jeremy Till (photo by Noah Berger), Kathleen Gygi, Cozette Ellis, glenda drew & Jesse Drew, Design Radical Futures, Group Projects, Mimi Zeiger, Civic Projects, Karen Kubey (drawing by Lorine Moellentine and McKenzie Vanko, WXY Studio, Traction Nepal, Toolshed, Lori A. Brown, Natalia Deeb-Sossa, Jennifer W Leung, nARCHITECTS, Yiwei Huang, PIXEL, Streetwyze, Sahoko Yui, Mark Gardner, Trace Manuel, Javier Arbon
Click here to follow the hashtag
Watch our session from IA's 'Through Tumultuous Times' series, where participants and members of CoPED discussed #engagedinplace further.
The CoPED 2019 Call for Case Studies, as part of the October 2019 National Gathering, yielded 7 community-engaged projects from community-based organizations, higher education institutions, and non-profits. These projects demonstrate a wide variety of contributions with regard to different dimensions of publicly engaged design. These case studies were used in our ongoing effort to develop best practices for community-engaged work.
Click here to access the report: CoPED 2019 Case Studies.pdf